Skip Navigation
Website Accessibility
Why are there cookies in my Sewing Kit?

If you give a mouse a Sewing Kit:
How to build a basic kit.



We don't realize how connected we are until something strange happens.
The use of the Danish Butter Cookie Tin is a fantastic example of a strange thing-- a wide-spread coincidence most experienced during their childhood.
Logically, we know the value of a good box, container, or tin- and we hoard them until they can be used, so really why wouldn't you use the

Cookie Tin

to store a

Sewing Kit

?
The

Blue Cookie Tin

is air tight, (mostly) water safe, plenty of room for a basic Sewing Kit ( as well as a few odds and ends ), and easily stackable.
The confusion lies in why and how did a majority of households decide to use this particular tin? Now it's an internet meme, but the tradition pre-dates it's online presence and there would have been no real reason for it to be advertised in a newspaper or magazine.


Regardless of the origin of the use of the

Cookie Tin

as a Sewing Kit- it is an amazing thing to repurpose ( and confuse your progeny- you know who you are).
Sew, what do you put in you

Sewing Kit

?
Here's what we recommend:
Fabric Shears:
There are many brands of fabric shears to pick from with various weights, lengths, and handle shape. You can find anything from a fancy filigreed pair with a handle shaped like a bird to a solid steel pair that's been passed down a few generations and is still going strong -- sometimes using an old reliable brand is the way to go. For it's sharpness and smooth cutting allowed by the bent handle, our pick is the

Gingher 8 inch Dressmaker Shears

.
They have a versatile longer length cut and blades strong enough to trim and cut multiple layers of fabric effortlessly. The longer cut is ideal for cutting out patterns and trimming seams. Gingher's precision ground knife edge cuts flawlessly all the way to the points. We also like that they have both a right and left handed pair available



Scissors:


90% of the cutting you'll do is fabric or thread, but you still will occasionally need to cut something not fabric-- and of course we wouldn't want to damage the edge of your fabric shears, so another pair of scissors is good to have on hand. A pair you'll probably cut fabric with, but also won't mind using to peel open a new spool of thread or snip off the end of a zipper.For this pair any will do, but a fun pair of patterned scissors is our go-to, because why not?
This all-purpose pair is from

Singer

and we love the cow print blades!
Snips
:
Now snips are not a 100% necessary item for your sewing kit, but they make things simpler when finishing up a project. Fabric shears, while amazing for most of the project, can be rather cumbersome when just snipping off threads, so having a pair of snips is rather handy.The

Brewer Scissor Thread Clippers

are an inexpensive investment with a sharp point for getting in nooks and crannies.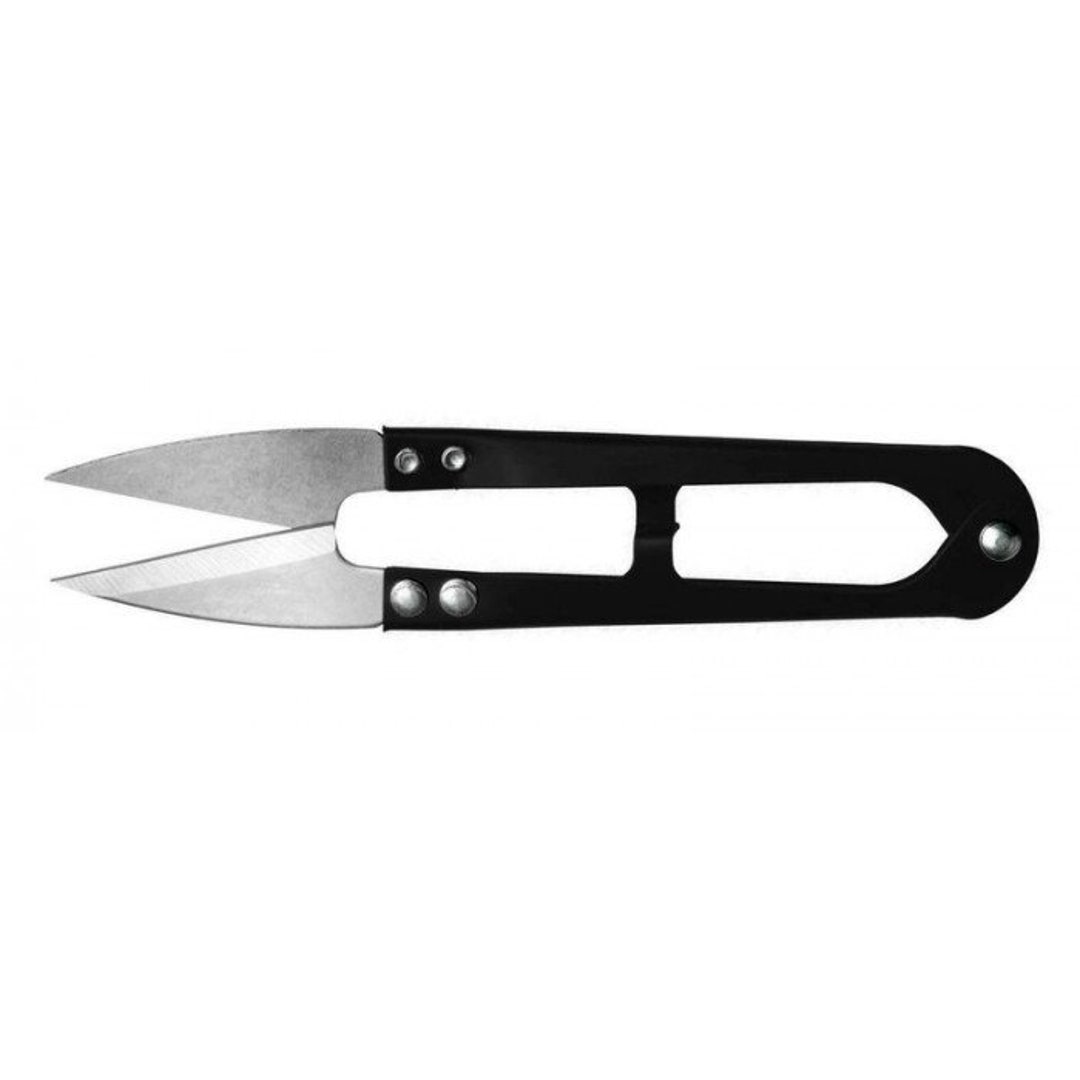 Pins:


It would surprise you (or not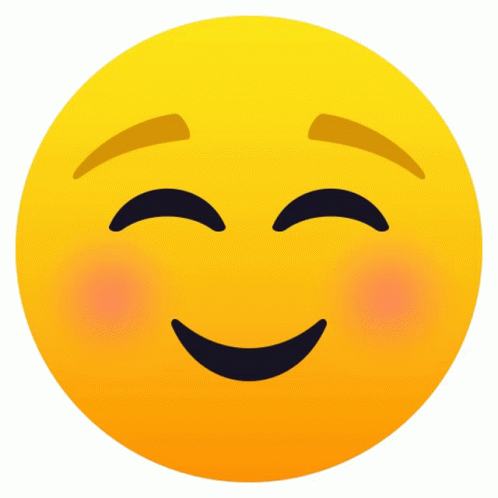 ) how many types of pins there are. From a very sharp fine point to a ball point for more delicate fabrics, glass head pins for heat resistance, or even decorative flat headed pins. There are many pins for different purposes or one pin for many purposes-- it's really a matter of preference (most of the time). We are rather fond of

Magic PINS

!
They have various types and an amazing heat resistant comfort grip that makes these versatile and easy to use.
Honorable mention:
Wonder Clips!



While they are a little bulky for some projects, these are a great alternative to pins -- especially when working with vinyl, piles, and heavy weight fabrics. They hold layered sections of sewing projects such as, handle connectors to handbags, piping, etc. without distortion. It's also great for holding quilt binding while sewing and works well with sergers!


The clip opens wide to hold layers of fabric and its base is flat for easy feeding to the presser foot. The seam allowance markings of 1/4" (7mm) and 1/2" (12 mm) are an amazing feature and their clear color style makes it easy to see your work (also super easy to find when dropped!).




Pin Cushion:


Every sewing kit needs one of these! They come in many, many colors, styles, shapes, and sizes -- and are always a practical, but fun little addition to your arsenal.

The Dritz Tomato Pin Cushion

is a classic example of a pin cushion with our favorite attachment, the

Emery Strawberry

!
It's perfect for sharpening your pins and needles to extend their life!

Seam Ripper:



Everyone's favorite tool that they hate to use. We love the idea of the seam ripper, but we rather not have to use it -- ever...But we are only human, so sometimes ripping out a seam is a necessary evil, and If we can get it done as quickly and painlessly as possible we will -- gladly and with great enthusiasm. For this we have two inexpensive seam rippers due to their slightly different functions, both of which live permentantly in the sewing kit.

A

Basic Seam Ripper

&

A Surgical Seam Ripper
The basic seam ripper is a good all-purpose tool. Great for picking out a seam and usually comes with a lid for the pointy end.
The surgical seam ripper is great for quickly cutting through thread that doesn't require a delicate touch. It slices through layers of thread, as opposed to having to individually pick/snip each individual thread loop, saving so much time!

Hand Needles:




If you're machine sewing or embroidering you generally won't use hand needles, however, some things can't be finished on a sewing machine -- attaching a shank button for instance -- So having hand sewing needles is always a good idea.

While there are many brands of needles, with varying lengths, thickness, eye size, and point style -- we are fond of variety packs due to the multiple sizes. We like the Sōho Hand Sewing Needles in particular.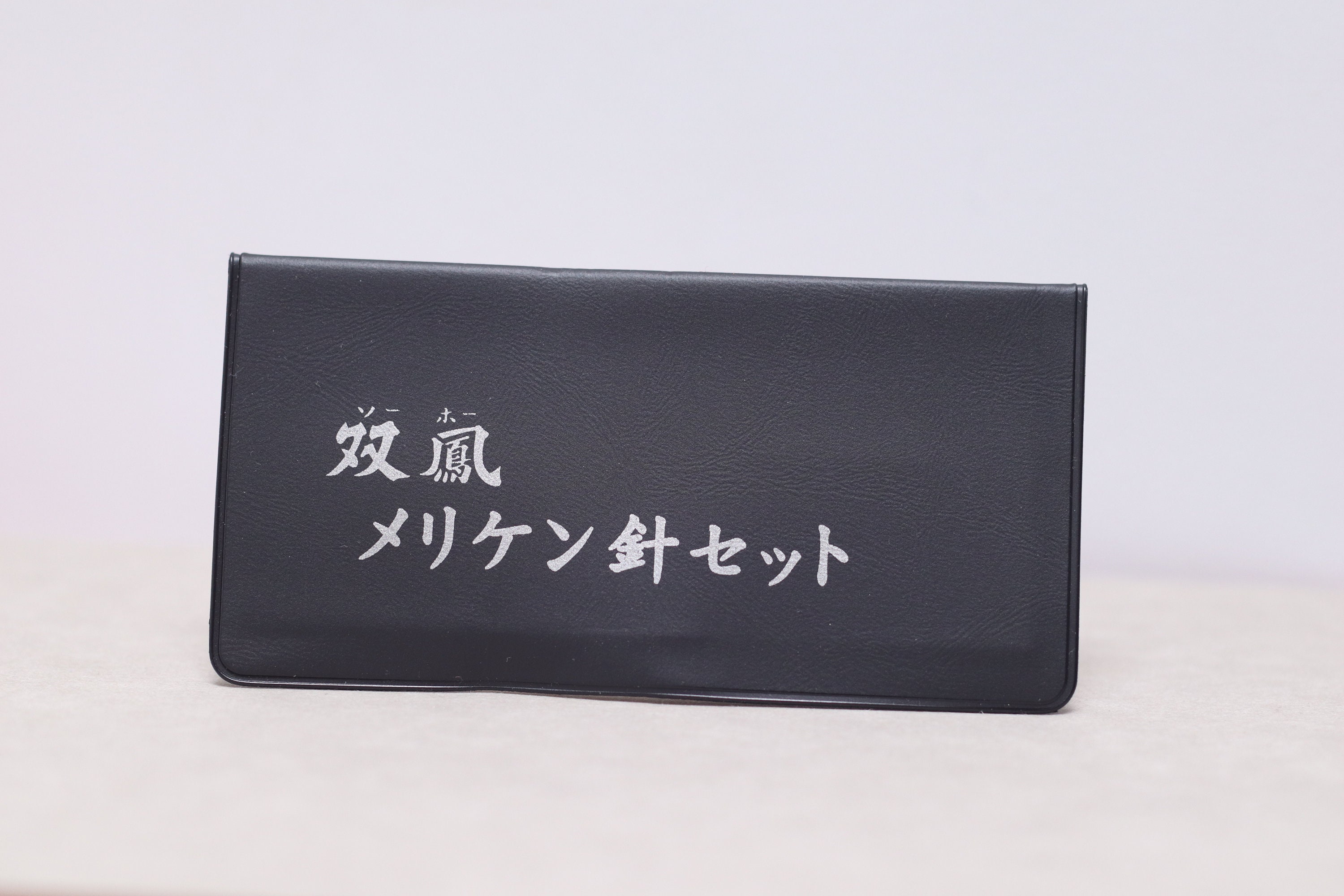 These Japanese hand sewing needles come in various lengths and widths -- it's perfect for anyone who wants to try almost all sizes of needles. Thanks to the handy needle case you can store them safely and it includes a small magnet sheet for collecting needles.
Needle Threader:
The needle threader is a handy sewing tool that takes the pain and frustration out of a tricky task. Needle threaders come in many shapes and sizes and as attachments on modern sewing machines.Our sewing kit has two - first the

Clover Desk Needle Threader

.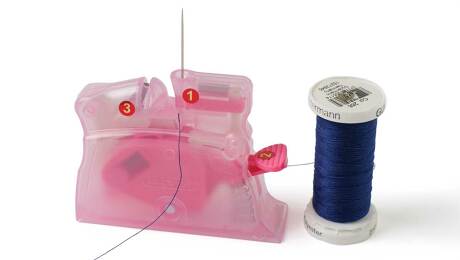 Small and compact, the desk threader allows you to easily thread needles of any size by inserting them into the same place and pressing a button. They come in a few different colors and are easier on the eyes than a traditional hand threader.Secondly, we have a traditional

Tin Needle Threader

.
These are less bulky than the desk threader and small enough to tuck away with your needles or pin onto a spool of thread. Old fashioned and still one of the best tools in the business -- they are a standard addition to any sewing kit and make things sew, much easier.

Thread:


Thread can make it or break it -- to badly twist a famous quote, literally. Not to knock any particular brand of thread, but sometimes you truly do get what you pay for. Thread is comprised of tightly wound fibers in a continuous strand and trimmed and shaved to perfection, the leftover bits are made into other thread types, as well as lower quality threads. Lower quality threads tend to shred and shed on your project and in your machine, which causes issues while sewing. Having the right type of thread matters greatly. For instance, quilting thread is thicker than sewing thread, while embroidery thread is thinner -- also some types have a beeswax coating on it to make it stiffer for hand sewing.
To avoid these issues we recommend

Mettler Sewing Thread

.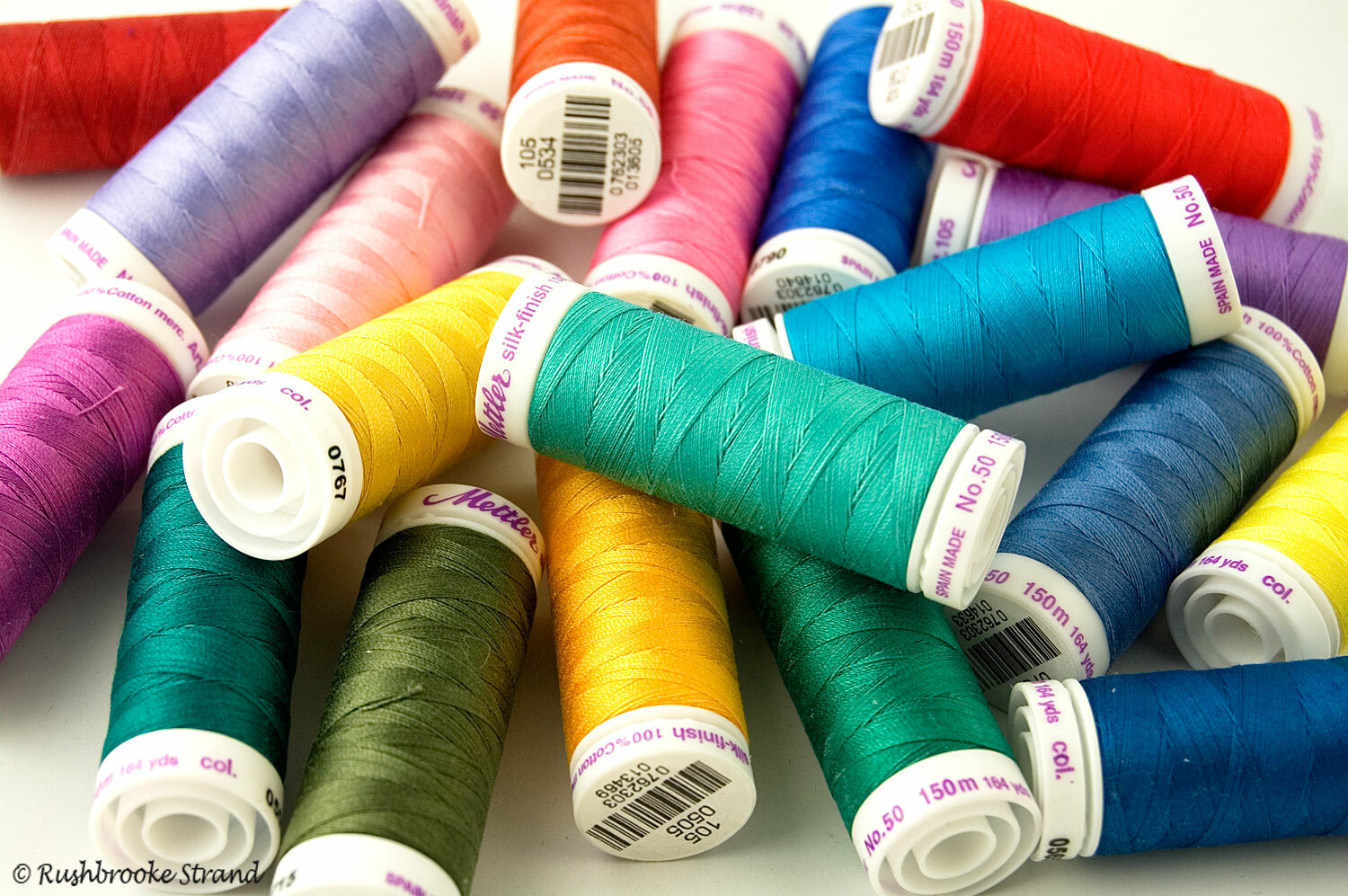 This high quality thread comes in multiple colors and finishes. It is a 100% polyester thread that resists shrinkage when washed.
Seam Gage:
A seam gauge is a ruler, usually 6 inches long, used for measuring short spaces. It is typically a metal scale, marked in both inches and centimeters with a sliding pointer. It is used to mark hems for alterations as well as intervals between pleats and buttonholes and buttonhole lengths.Most seam gauges are the same throughout many brands, with little to no variation so any will do, but we are fond of most of Dritz's notions so our pick is the

Dritz Seam Gage

.



Tape Measure:


Also known as a tailor's tape, sewing tapes are ultra-flexible. They are well suited for clothing design and production, the soft tape measure rests seamlessly along curved and flat surfaces. They range in length from 60 to 120 inches. Most also have both imperial and metric measurement markings.
Honestly, any non-fabric tape measure will work for your sewing kit.
The ones pictured above come from multiple suppliers and are made of a durable, yet flexible vinyl, making it perfect for a seamstress or tailor.
Thimble:
A thimble is a small finger protector that saves you from being pricked by a needle when hand sewing and also allows you to put more pressure on your needle when trying to push it through fabric. Did you know the small indents on the thimble aren't just decorative? Their actual purpose is to catch the end of the needle so it won't slip when you push it through your fabric.

Any thimble will do, it's all a matter of preference really

. They come in various styles and are made of so many different materials -- like steel, silver, wood, ceramic, leather, silicone, rubber, and even bone!
We keep several

Clover Brand Thimbles

in our sewing kit. A silicone thimble works for everyday sewing, but a leather thimble or traditional metal is great for punching through thick layers.
Marking Tools:
When you look at your sewing pattern instructions, you usually see you are required to transfer some of the markings from your pattern on the fabric. Most choose their marking tool depending on what works best with the type and color of fabric you are using for your project and whether the marking will be visible in the final product.The

Clover Chaco Liner Pen

is a fine-point chalk powder with a little wheel that lays the chalk as you roll. The pen is super comfortable to use and the mark comes off quickly and easily.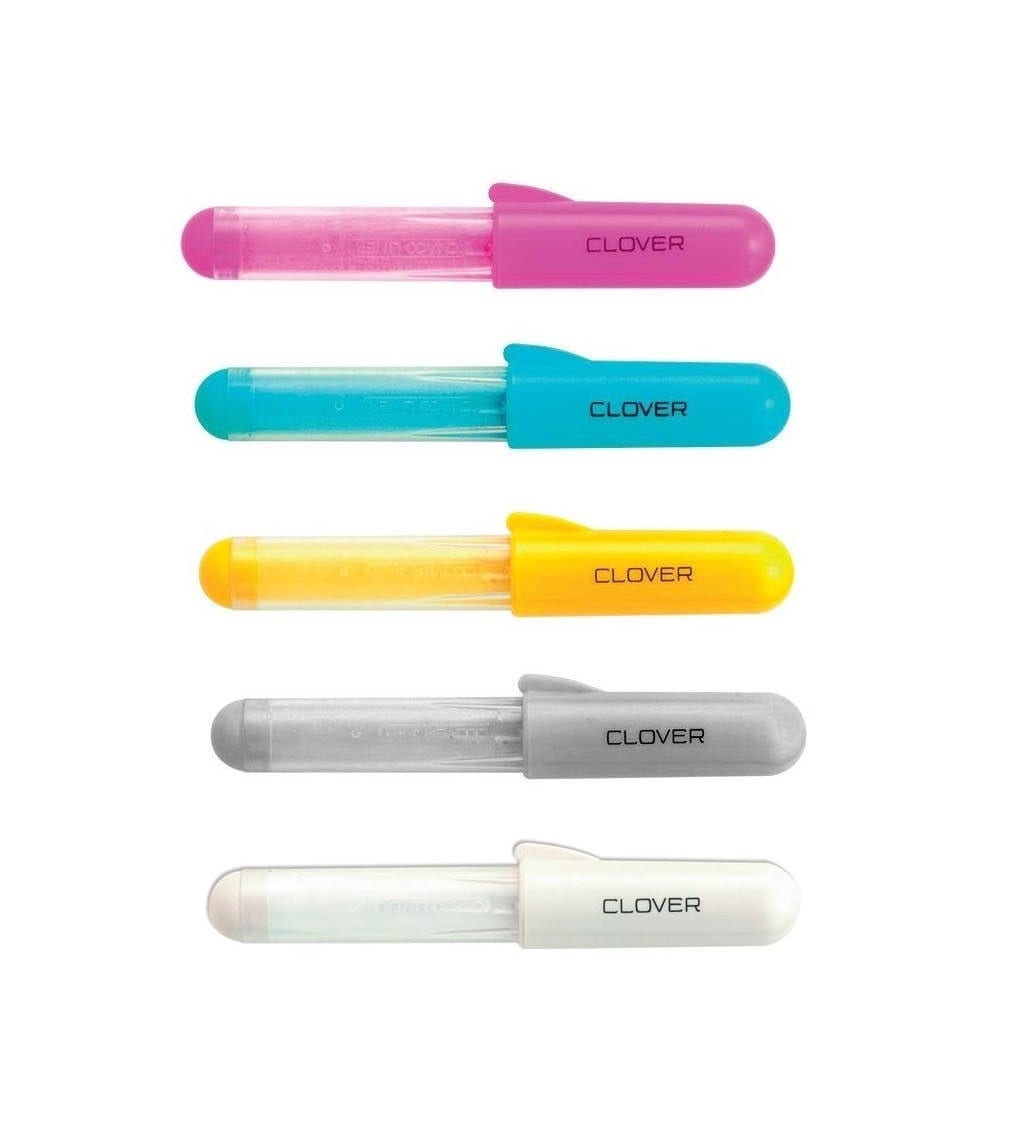 These pens disappear with either time, heat, or water. They are some of our favorite marking tools as they are easy to see on most fabrics.
This

Dritz Dual Purpose Marking Pen

features a Blue Mark-B-Gone Pen on one end and a Purple Disappearing Ink Pen on the other. The blue ink wipes off with a damp cloth, while the purple ink is both air and water soluble.
The

Pilot FriXion

erasable pen has heat-erasable ink that can be used to mark fabric. You simply iron over markings to remove them when finished!
Third Hand:
The

Third Hand

, also called the Bird & Clamp Set or the Kakehari, is a nifty device that attaches to your sewing table, which holds the fabric taut so you can use both hands to sew or trim seams and hems, especially on fine, slippery fabrics.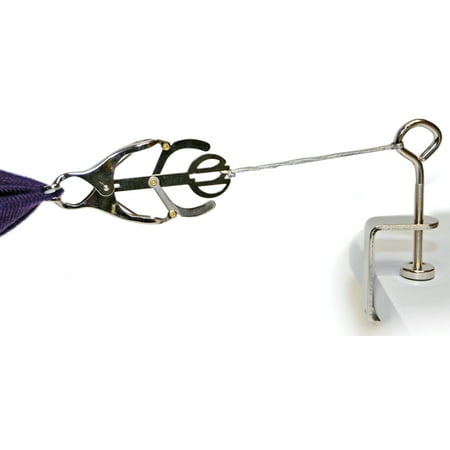 Whether you're a beginner or an experienced sewer, having a third hand sewing clamp around will definitely come in hand-y.